With Spring here and backyard patio living upon us, I am excited.  My husband and I love to have friends over for bbq's and fun times, but I cannot stand the bugs.  I get a mosquito bite and it swells up like crazy where they don't bother my husband at all.  I like to believe it is because I'm so sweet…..(he would not agree.)
So every year, we hang the bug zapper, layer ourselves with spray, spray the yard, citronella candles, smudge pots……you name it…….we do it.  This year, I'm taking some different advice.  I'm adding Mosquito-Repelling Plants to my pots that I normally do on my deck.  I usually plant only herbs, but I'm willing to try this and let's hope it works.  I'm reposting this blog post from http://www.onekingslane.com because it was my inspiration….hope it inspires you as well.
Easy Update:
Mosquito-Repelling Potagerie
A trio of lush potted plants will have
you saying good-bye to bug spray.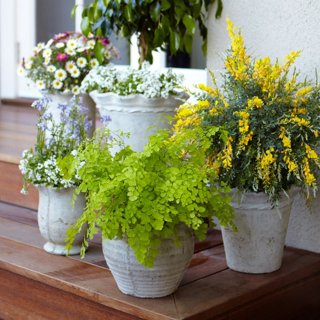 Outdoor entertaining is one of the great joys of spring and summer. Until, of course, the bugs invade. In place of spray and pesticides, try a cluster of mosquito-repelling potted plants. Grouped together near a seating area on your deck or patio, they make a pretty and lush addition to your outdoor landscape while also protecting you and your guests.
Most plants that repel bugs possess an herbaceous scent that adds a pleasant aroma to your garden. These plants are generally sun-loving, prolific growers, making them very easy to care for.
We are fans of the "thrill, spill, fill" gardening motto. When choosing plants it's nice to feature a tall plant (this is your "thrill"), fronted by both an abundant midsize plant (your "fill") and a lower-growing plant that creeps so it "spills" over the edge.
In warmer weather, potted plants dry out faster than plants in the ground. Make sure to water them often.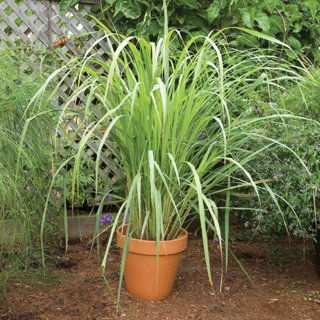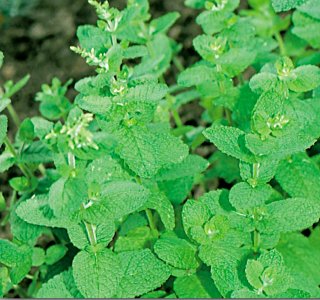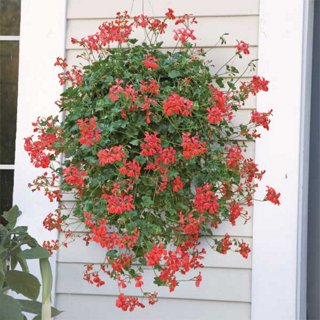 Cascading Geranium, another bug repelling plant, will cascade over its pot and add a delicate floral scent to your potagerie.
Happy Springtime
Related articles